EASYMETERING will be the First Technology Company in ZEDE del Litoral
On Friday, February 3, the incorporation of EASYMTERING to ZEDE del Litoral was signed as the first technological operator in the Special Economic Development Zone. The event was held in the CTI building of the ESPOL Gustavo Galindo campus.
Byron Rojas, founder of EASYMETERING, indicates that the company's next step is to move its operations to the Special Economic Development Zone and become an export hub for the entire region. The tax exemptions offered by ZEDE make it possible to improve the company's competitiveness in the national and international markets, says the General Manager of Easymetering Ecuador, Joffre Anzules. Also, he indicates that thanks to these benefits, the company will be able to grow to create new quality jobs and encourage the Research & Development of new technologies. Byron Rojas, the founder of the company EASYMETERING, assures that the insertion of EASYMETERING to ZEDE del Litoral marks a milestone in the history of the company because it symbolizes that technology that was created in Ecuador has value in foreign markets.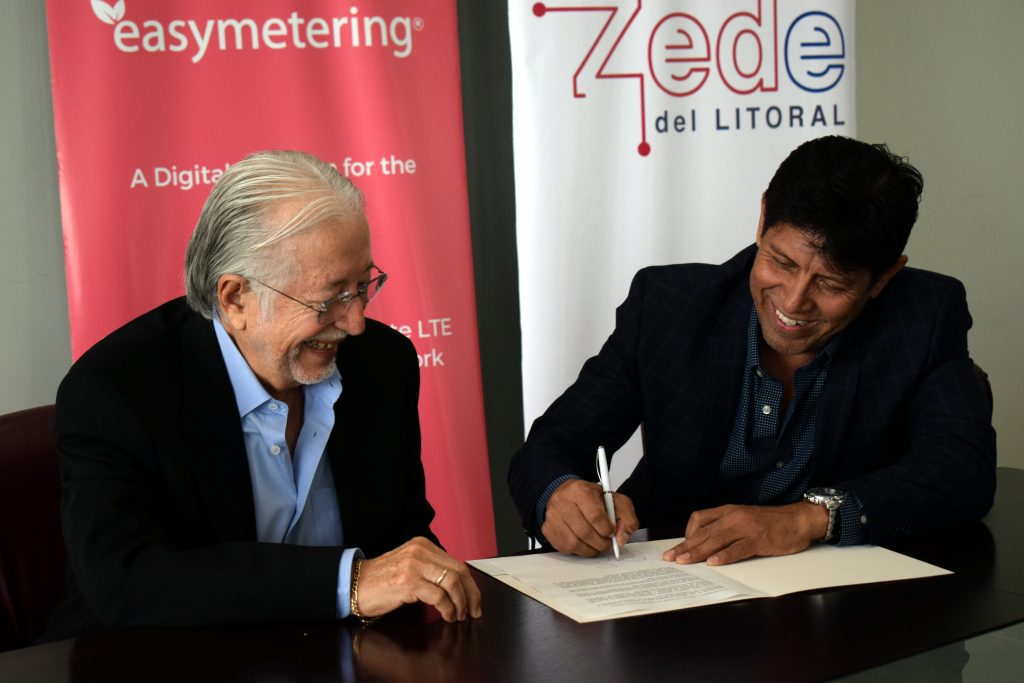 Byron Rojas signed the agreement together with Sergio Flores, President of ZEDE del Litoral.
Zede del Litoral: This is a Special Economic Zone (ZEE) created on April 18, 2017 and has an area of 120 hectares within the ESPOL university on its Gustavo Galindo campus. They are a special economic zone located on Guayaquil, Ecuador, created on 2017. It's objectives are to promote business entrepreneurship, regional development and constant innovation. The administrator of ZEDE del Litoral is a public limited company that is in charge of developing, managing and controlling operations within its territory. One of the objectives of the administrator is to contribute to the development and innovation of the region. The ZEDE del Litoral is qualified to transfer and disaggregate technology and industrial operations into goods and services. A special economic zone (SEZ) is an area within a country that focuses on attracting business and have trade and tax laws different than the rest of the country. These zones are intended to function as zones for rapid economic growth by using tax and business incentives to attract foreign investment and technology.Learn more by visiting their website: https://www.zedelitoral.ec/

EASYMETERING social networks:
LinkedIn: @EASYMETERING
Twitter: @EasyMetering
Facebook: @easymetering
About EASYMETERING:
EASYMETERING is a leading provider of smart metering solutions for utility companies worldwide. Our innovative technologies empower utility companies to reduce electric commercial losses, improve grid management, and enable sustainable energy practices. With a commitment to delivering reliable and intelligent metering solutions, EASYMETERING continues revolutionizing the utility industry.